WOHLENBERG PT1-1600 IV x 12000
5-axis numerical lathe with possibility of milling and grinding external and internal surfaces
Speed range of main spindle: from 1 to 560 [rpm]
The maximum torque of main spindle: 22.5 [kNm] (S1)
Distance between centers: 12000 [mm]
Maximum weight of workpiece between centers: 20000 [kg]; (in the handle shield: 8000 [kg] )
Turning diameter over cross slide: Ø 1280 [mm]
Circulation diameter over bed: Ø 1600 [mm]
Y axis range (for milling head): from -200 to 200 [mm]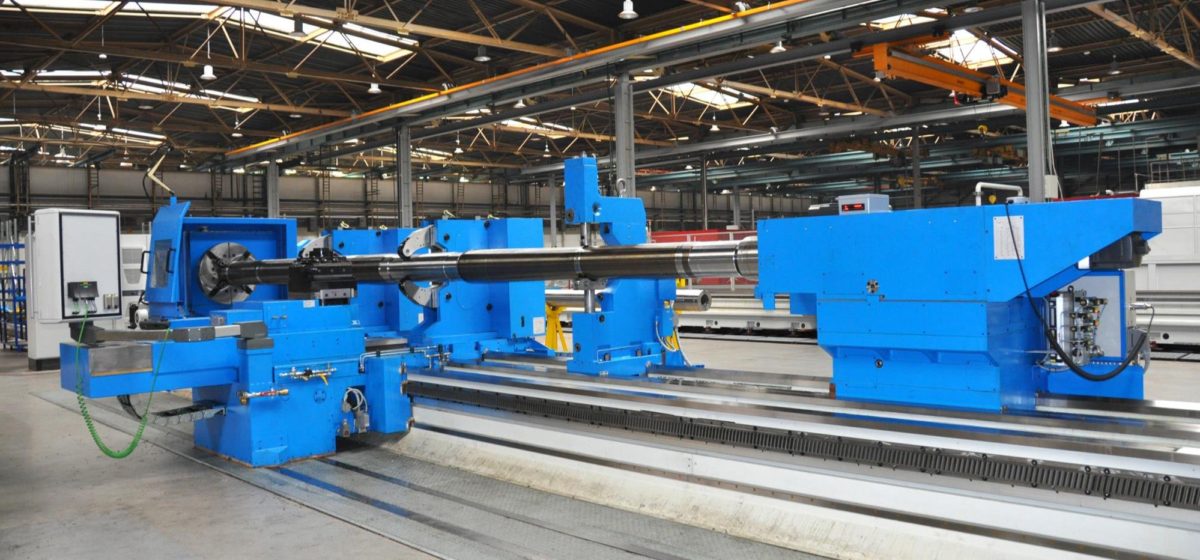 Drilling-rifling machine Type PB2 1200×11000
Length of a part: 10 000 [mm]
Outer diameter of machined part: Ø450 [mm]
Weight of machined part: 8 000 [kg]
Drilling in solid material: from Ø20 up to Ø200 [mm]
Reaming: up to Ø293 [mm]
Rifling: max. hole diameter: Ø200 [mm]
Rifling with permanent and changeable travel
Possibilities of machining during deep drilling;
both machined part and tool rotate backwardly or concurrently
machined parts rotates and tool is immovable
machined part is immovable and tool rotates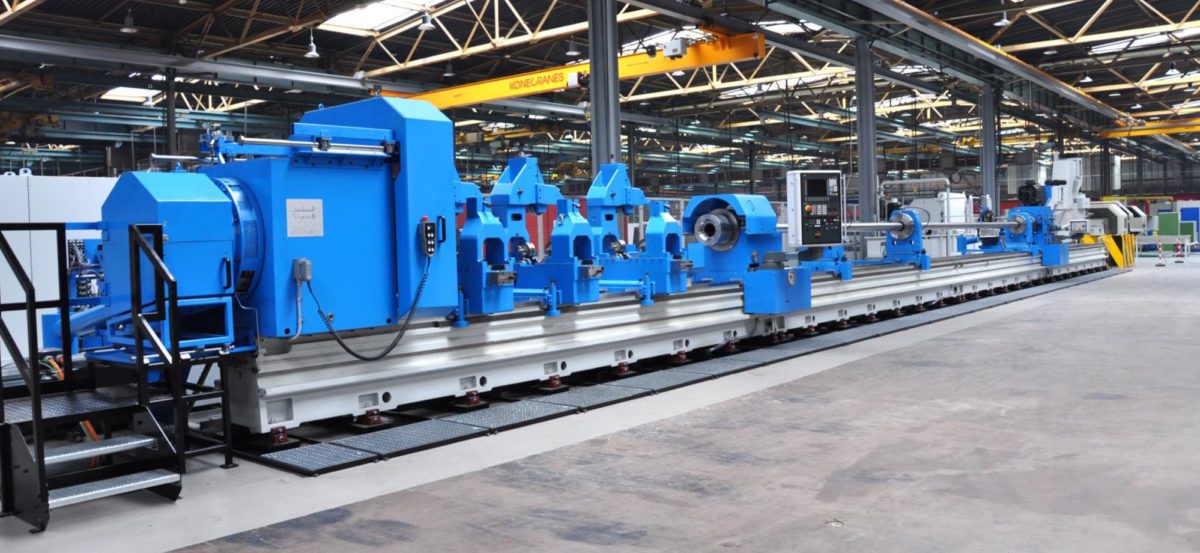 Honing machine for deep holes SUNNEN HTS-124-105
Max. length of honed part: 11 000 [mm].
Accuracy (tolerance up to H7):

Honing range: Ø 20 ÷ 800 [mm] (except Ø 52 ÷ 74 [mm]).

Max weight of machined part:

8 000 [kg] – with part rotation
10 000 [kg] – without part rotation

Possible honing of chromed holes with diamond-plated tools
Autofretage
Length of part: 10 000 [mm]
Max. autofrettage pressure: 10 000 [bar]
Direct measurement of pressure during autofrettage using two sensors.
Measuring of the outer diameter during autofrettage using 16 of inductive sensors with automatic register.
Measurement of linear elongation: 4 strain gauges with automatic register.
Automatic data register from the control panel of the whole autofrettage process
Measurement and registry of the pressure, diameters and elongation.